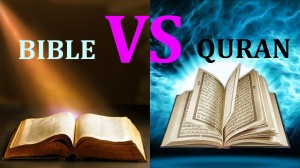 Who Is The Real Jesus: The Jesus Of The Bible Or The Jesus Of The Qur'an?-William Lane Craig
A comparison of how Jesus is described in the New Testament and in the Qur'an in order to determine which is more reliable.
Jesus of Nazareth is the most influential person who ever lived. Twenty centuries after his death, he continues to exert his power of fascination over the minds of thinking men and women. Peter Jennings' television special "In Search of Jesus" attracted some 16 million viewers across the country. Mel Gibson's "The Passion of the Christ" grossed 370 million dollars. Dan Brown's book The DaVinci Code has been a runaway best seller, exceeding the 100 million mark in some 40 languages. People obviously continue to be fascinated by Jesus.
But who is Jesus really? Is he, as the Bible says, the divine Son of God? Or was he merely a human prophet, as Muslims have been taught to believe? Who is the real Jesus? Read the complete article here
The Qur'an or the Gospels: Where is the real Jesus to be found?–Dr. Andy Bannister
Nabeel Qureshi – Jesus in Islam vs. Jesus in Christianity
Biola Masters in Christian Apologetics – Apologetics to Islam
Who Was Jesus – Qureshi vs. Qureshi – 01 – Nabeel's Opening Statement
(Note: for complete debate–go to Youtube and search for "Qureshi vs Qureshi")
The Muslim Jesus (ITV Documentary)–This documentary presents both the Christian, and Muslim, understanding of Jesus
First Baptist Church at the Mall (2015) – Nabeel Qureshi is a bestselling author and one of the top debaters with Muslims. Dr. Qureshi is a medical doctor, and a former Muslim. Dr. Qureshi is one of the foremost speakers in the field of apologetics today, specifically on the Muslim faith.