Introduction: Before introducing J. Warner Wallace's new book, I want to express my thankfulness and gratitude to him for his ministry. I consider J. Warner Wallace a mentor to me, as I have greatly benefited from his ministry personally as a teacher, as well as equipping me to be a more effective ambassador for Christ to the unbelievers I meet on a daily basis. His insight and methodology have been particularly helpful when presenting the Gospel to my Muslim friends regarding the reliability of the Gospels, etc. Each of James' books; Cold-Case Christianity—A Homicide Detective Investigates the Claims of the Gospels; God's Crime Scene—A Cold-Case Detective Examines the Evidence for a Divinely Created Universe, and Forensic Faith—A Homicide Detective Makes the Case for a More Reasonable, Evidential Christian Faith, are essential resources for enhancing our effectiveness as Christ's ambassadors in the cultural milieu of today. For more on the ministry of J. Warner Wallace go to: coldcasechristianity.com and his Youtube channel, here.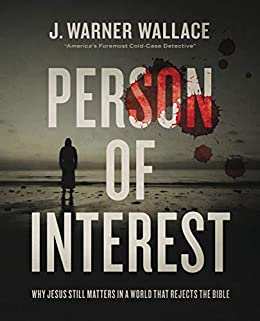 Now, onto James' new and upcoming book…
In this day and age of skepticism, which is extreme at times, the Bible, and particularly the New Testament is often dismissed 'out-of-hand.' But what if a case could be made outside the Bible for Jesus as THE person of interest, THE person who is the most significant person in history, and whose impact upon the world changed everything? In his new milestone book, Person of Interest—Why Jesus Still Matters in a World That Rejects the Bible, J. Warner Wallace demonstrates how Jesus (and Christianity) changed every aspect of the world, from science to art, from music to education and literacy. As Wallace carefully sifts through the evidence from history alone, without relying on the New Testament, you'll be taken on a journey like never before as to how Jesus, the most significant person in history, changed the world in ways that no other person has. How can this be, you may ask? Wallace's conclusion is, "Maybe it's because he is not a person at all. If God came into His creation, I would expect this kind of impact…He matters because He changed everything. And the only way someone with this kind of beginning can change everything is if He's something more than human."
Release Date of Person of Interest-Sept. 21, 2021
For more details on how to pre-order Person of Interest, go to the Person of Interest website at: personofinterestbook.com
If you pre-order before Sept. 21, 2021 you will receive:
• 8 Printable Bible inserts
• Exclusive ebook: "Is Jesus a Copy-Cat Savior?" (32 pages)
• Exclusive video: "How Jesus Changed Science Forever"
• 40% OFF Discount Code for Our Exclusive, Private Community
Features of Person of Interest:
As a cold-case detective, Wallace uncovers the truth about Jesus using the same approach he employs to solve real murder cases
Marvel at the way Jesus changed the world as you investigate why Jesus still matters today.
Learn how to use an innovative and unique "fuse and fallout" investigative strategy that you can also use to examine other claims of history.
Explore and learn how to respond to common objections to Christianity.
Detective J. Warner Wallace listened to a pastor talk about Jesus and wondered why anyone would think Jesus was a person of interest.

In Person of Interest, Wallace describes his own personal investigative journey from atheism to Christianity as he carefully considers the evidence. Creative, compelling, and fully illustrated, Person of Interest will strengthen the faith of believers while engaging those who are skeptical and distrusting of the New Testament.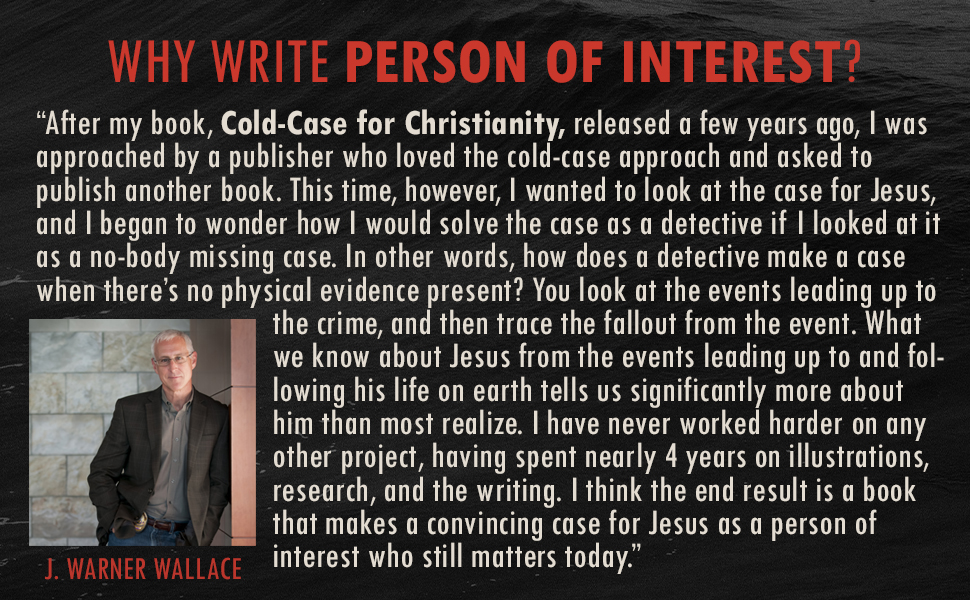 "The stunning conclusion of the master cold-case homicide detective's meticulous research, analysis, and deliberation will leave Christians delighted and skeptics devastated."—Greg Koukl, President of Stand to Reason (str.org) and author of Tactics
"Wallace has an uncanny ability to discover clues where no one else sees them. Now he tackles perhaps his toughest case ever: solving a deeply personal mystery involving his own religious faith."—ROBERT DEAN, producer of NBC News Dateline
"A creative and eye-opening work. You'll be captivated as Wallace takes you on a thrilling journey of discovery."
—LEE STROBEL, bestselling author of The Case for Christ
"If you read this book, you will have to reckon with Jesus, not just as a historical person but as Lord and Savior. This is not your typical apologetics book!"
—ALISA CHILDERS, author of Another Gospel
"Bring your doubts, bring your skepticism–but if you bring them in open-minded honesty…be prepared to render a shocking verdict."
—SCOTT HANSON, host of NFL RedZone
James Warner Wallace is an American homicide detective and Christian apologist. Wallace is a Senior Fellow at the Colson Center for Christian Worldview and an Adjunct Professor of Apologetics at Biola University in La Mirada. He holds a Masters Degree in Theological Studies and a Masters Degree in Architecture from UCLA.
Jesus: Person of Interest—Intro presentation to the book, Person of Interest—by J. Warner Wallace