Consciousness and the Existence of God: A Theistic Argument–J. P. Moreland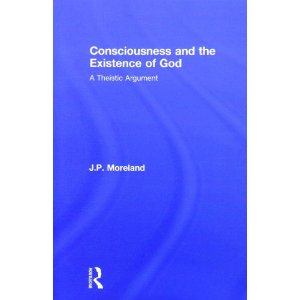 The book's central claim is that the existence of finite, irreducible consciousness (or its regular, law-like correlation with physical states) provides evidence (with a strength I characterize) for the existence of God. I call this the Argument from Consciousness (hereafter, AC). I provide some argumentation for irreducible consciousness, but the focus of the book is the conditional "If irreducible consciousness exists (or is regularly correlated with physical states), then this provides evidence (to a degree specified in chapter two) for God's existence."
As a result of the work by serious philosophical theists and Christian theists writing in consciousness studies, I would like to see non-theists be more explicit about how the problem of consciousness's origin and existence motivates their physicalism, and I would like to see more interaction with the argument from consciousness.  I would also like to see theists develop the argument more fully and employ it more in their work.
I dedicated Consciousness and the Existence of God to my colleague and dear friend, William Lane Craig, because of his love for God, his fidelity to truth and his dedication to the defense of the knowledge of God for all peoples. (For the full book review, here)
What is Consciousness?–J. P. Moreland
J.P. Moreland (Biola University) comments on the nature of consciousness, suggesting that consciousness is immaterial, ultimately finding its origin in God.
God Is the Best Explanation of Intentional States of Consciousness In the World–William Lane Craig