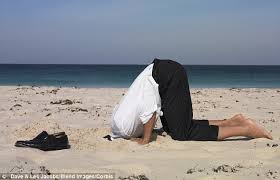 Before entering into the subject at hand, it seems that we must first identify the intellectual 'ostrich.' In applying the metaphor to ourselves, that being the present day Christian, it would most likely be a person who loves the Lord with all their heart, strength and soul, but somewhere along the line, either consciously or subconsciously, decided to bury their head (aka the mind…not that the gray matter is our mind, but you get the point) in the sand in regards to loving God with all their mind, preferring to leave the intellectual aspect of loving the Lord undone—something that the Lord specifically stated that we were not to do. (Matt. 22:37, 38) What then is the sand in which the mind has been buried? Well, for many it is the sand of a "simple faith," also known as a childlike faith by some. (other types of 'sand' will be addressed in future post in this series) This 'simple faith' often sees philosophical and theological studies, not to mention the study of apologetics (which will be defined in Pt. 2 of this series), as a detriment to 'faith,' as they understand it, and as such, is something to be left to philosophers, theologians, pastors and those especially gifted in evangelism. (This, in spite of the fact that such intellectual endeavors are commended in Scripture to every Christian–see 1 Peter 3:15) However, in its proper exegetical context, a simple, or childlike faith does not exclude such study and learning, to the contrary, it embraces and welcomes it, or it should. As William Lane Craig so aptly puts it, "we must distinguish between a childlike faith and a childish faith. A childlike faith is a whole-souled trust in God as one's loving Heavenly Father, and Jesus commends such a faith to us. But a childish faith is an immature, unreflective faith, and such a faith is not commended to us. On the contrary, Paul says, "Do not be children in your thinking; be babes in evil, but in thinking be mature" (1 Cor. 14.20 RSV). If a "simple" faith means an unreflective, ignorant faith, then we should want none of it."1
J. P. Moreland shines an illuminative (and hot) light upon the situation in his intellectually stimulating book, Love Your God with All Your Mind, in which he states, "What would be the theological understanding,…the evangelistic courage, the…cultural penetration of such a church?…If the interior life does not really matter all that much, why spend the time…trying to develop an…intellectual, spiritually mature life? If someone is basically passive, he or she will just not make the effort to read, preferring instead to be entertained. If a person is sensate in orientation, music, magazines filled with pictures, and visual media in general will be more important than mere words on a page or abstract thoughts. If one is hurried and distracted, one will have little patience for theoretical knowledge and too short…an attention span to stay with an idea while it is being carefully developed…And if someone is overly individualistic, infantile, and narcissistic, what will that person read, if he or she reads at all?…Christian self-help books that are filled with self-serving content,…slogans, simplistic moralizing, a lot of stories and pictures, and inadequate diagnosis of issues that place no demand on the reader. Books about Christian celebrities….what will not be read are books that equip people to…develop a well-reasoned, theological understanding of the Christian religion, and fill their role in the broader kingdom of God…[Such] a church…will become…impotent to stand against the powerful forces of secularism that threaten to bury Christian ideas under a veneer of soulless pluralism and misguided scientism. In such a context, the church will be tempted to measure her success largely in terms of numbers—numbers achieved by cultural accommodation to empty selves. In this way,…the church will become her own grave digger; her means of short-term "success" will turn out to be the very thing that marginalizes her in the long run."2
Evangelical leader, John Stott, in his presidential address to the Intervarsity Christian Fellowship annual conference (1972), admitted to "wondering how the apostle Paul would react if he were to visit Western Christendom today. I think he would deplore…the contemporary lack of a Christian mind." Stott followed his comment with a quote from Anglican theologian Harry Blamieres, "The Christian mind has succumbed to the secular drift with a degree of weakness and nervelessness unmatched in Christian history. It is difficult to do justice in words to the complete loss of intellectual morale in the twentieth-century church."
It has been posited that Christ's followers of today are suffering from "apologetic anemia,"3 which is in itself an enigma considering the vast apologetic resources that are available to the contemporary Christian. As New Testament studies professor Daniel Wallace has said, we are engulfed by an 'embarrassment of riches,' that are literally at our fingertips that will equip us with the understanding and knowledge of how to engage today's culture and address the challenges that are being put forth to the Christian worldview. However, in order to avail ourselves of these riches, we are the ones that must 'roll away the stone,' that is, do what we can do through prayer, study and research so that the Holy Spirit can bring forth the intellectual fruit in our lives that only He can do. These resources will do no good sitting untouched, either on the internet or on the bookshelf, or unordered from Amazon.com. The result of such apathy and passivity will be an intellectual quenching of the Spirit that longs to reach others through you and your witness.
Let's look at the effect that physical anemia has on the body and compare it to the "apologetic anemia" mentioned above. The symptoms of physical anemia are most commonly manifest in not having enough healthy red blood cells to carry adequate oxygen to our tissues, which can make us feel tired and weak. When applied to the intellectual cultivation of the mind (aka loving God with all your mind) for the use and purpose in the proclamation of the Gospel, a lack of 'red blood cells,' which we'll say is the 'knowledge of God,' which is defined as justified true belief, (1 Sam. 2:3; 2 Chron. 1:10; Pro. 2:6,10; Rom. 15:14, 1 Cor. 1:5; 2 Cor. 10:5; 11:6) will leave the person weak in mind and spirit, and as such, render them ineffective and unprepared in dealing with the intellectual challenges they will face to the Christian worldview. In our world of competing worldviews, such challenges present themselves often, and if left unaddressed, will result in a setback for God's Kingdom, and a missed opportunity to reach those whose spiritual path to the saving knowledge of our Lord Jesus Christ, is blocked by intellectual obstacles. The good news is that there is a remedy to "apologetic anemia," and even though the treatment may take a little time to get used to, once the supplements are taken and the diet is bolstered, the Christian mind will come to life and a new intellectual vitality will begin to manifest itself in your daily interaction with colleagues, friends, neighbors, and even the occasional stranger you may speak with at the park or at your local Starbucks. (The remedy will be discussed in detail in part 2 of this series—in the meantime, consult the Apologetic section of this site here)
Now I understand that not everyone is called to be a theologian, a philosopher or an apologist as a profession, but believe it or not, as followers of Christ, we are all called to be competently knowledgeable of each one of these areas of the Christian life—it is a biblical mandate as the following scriptures attest: "prepare your minds for action… but sanctify Christ as Lord in your hearts, always being ready to make a defense to everyone who asks you to give an account for the hope that is in you, yet with gentleness and reverence…We are destroying speculations and every lofty thing raised up against the knowledge of God, and we are taking every thought captive to the obedience of Christ…Conduct yourselves with wisdom toward outsiders, making the most of the opportunity. Let your speech always be with grace, as though seasoned with salt, so that you will know how you should respond to each person…And he was reasoning in the synagogue every Sabbath and trying to persuade Jews and Greeks… And he entered the synagogue and continued speaking out boldly for three months, reasoning and persuading them about the kingdom of God. But when some were becoming hardened and disobedient, speaking evil of the Way before the people, he withdrew from them and took away the disciples, reasoning daily in the school of Tyrannus. This took place for two years, so that all who lived in Asia heard the word of the Lord, both Jews and Greeks." (1 Pet. 1:13; 1 Pet. 3:15; 2 Cor. 10:5; Col. 4:5-6; Acts 18:4; Acts 19:8-10)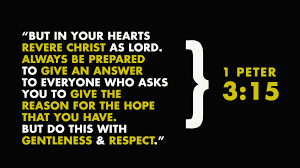 C. S. Lewis offers this challenge, "Theology means 'the science of God,' and I think any man who wants to think about God at all would like to have the clearest and most accurate ideas about Him which are available." We are all theologians, the only question is, are we a good theologian or a bad one? Are we going to 'study to show ourselves approved unto God, a workman that needs not to be ashamed, rightly dividing the Word of truth,' so that we will have the 'most accurate ideas about Him,' so we can be, "always…prepared to make a defense to anyone who asks you for a reason for the hope that is in you; yet do it with gentleness and respect…'? (1 Peter 3:15 ESV) The answer is up to each of us.
I will end here with the words of Amy Carmichael, a devoted missionary to India who laid down her life for her friends and the lost of India:
"Give me love that leads the way,
a faith that nothing can dismay,
a hope no disappointments tire,
a passion that will burn like fire,
let me not sink to be a clod,
make me Thy fuel, O Flame of God."
"And he said to all, "If anyone would come after me, let him deny himself and take up his cross daily and follow me. For whoever would save his life will lose it, but whoever loses his life for my sake will save it. For what does it profit a man if he gains the whole world and loses or forfeits himself? For whoever is ashamed of me and of my words, of him will the Son of Man be ashamed when he comes in his glory and the glory of the Father and of the holy angels…" (Luke 9:23-26 ESV)
"To evade the Son of Man, to look the other way, to pretend you haven't noticed, to become suddenly absorbed in something on the other side of the street, to leave the receiver off the telephone because it might be He who was ringing up, to leave unopened certain letters in a strange handwriting because they might be from Him — this is a different matter. You may not be certain yet whether you ought to be a Christian; but you do know you ought to be a Man, not an ostrich, hiding its head in the sand."– C.S. Lewis
Click here for Pt. 2 of 'The Intellectual 'ostrich' series
Click here for the Apologetic Resources page on this site which includes print and web resources—also under the  Apologetics tab you will find, 'What is apologetics?', 'Can anyone be an apologist?', and 'Being a Christian case-maker'
[1] William Lane Craig, In Intellectual Neutral, http://www.reasonablefaith.org/in-intellectual-neutral
[2] J. P. Moreland, Love Your God with All Your Mind (Colorado Springs: Nav Press, 1997), 93-94.
[3] Douglas Groothuis, Six Enemies of Apologetic Engagement, http://www.bethinking.org/apologetics/six-enemies-of-apologetic-engagement