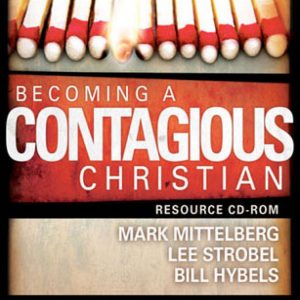 Over one million people have experienced the groundbreaking evangelism training course Becoming a Contagious Christian — a proven resource designed to equip believers for relational evangelism. Now revised and updated, it avoids stereotyped approaches that feel intimidating to many Christians — and to their friends! Instead, it shows ordinary believers how to share the gospel in natural and effective ways being the person God made them to be.
Becoming a Contagious Christian, a six-session, video-based study, that shows you how to share the gospel in natural and effective ways while being yourself. Designed by Mark Mittleberg and Lee Strobel, this study will help you identify and develop an evangelical style that is effective for you. Now revised and updated, it includes everything you need to train a small group, Sunday school class, or an entire congregation how to naturally share the gospel. This CD-ROM equips teachers, pastors, and leaders with: PowerPoint presentations for all six sessions (for teaching larger groups or seminars), six sermon transcripts from Bill Hybels, Lee Strobel, and Mark Mittelberg—for use in services as part of a churchwide Contagious campaign, campaign implementation guide, reproducible promotional materials including poster, direct mail postcard, bulletin insert, and more. You can use the resources on this CD to teach a class or seminar, or to conduct a church-wide Contagious campaign that combines motivational preaching during weekend services with simultaneous training in classes or small groups throughout your church.
To 'whet your appetite' for this amazing course, the creators have made the first session available via Youtube. Here it is:
If you are an individual or church who desires to embrace the "salt & light" lifestyle so that the Holy Spirit will empower you to fulfill Jesus' last words to His followers, "you will receive power after that the Holy Ghost has come upon you, and YOU WILL BE WITNESSES UNTO ME," then please invest in this tremendous resource that will equip you to do so. (Acts 1:8) Order the Becoming a Contagious Christian equipping course today! (Link to course, here).
Related articles
Conversational Evangelism-Learning to enjoy the ride-by Lane, here
Forensic Faith-How to empower & keep our youth-by Lane, here