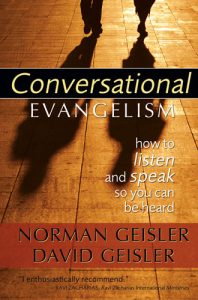 I have had the privilege during the last couple months to present a pro-evangelism message to two different audiences here in Canada where my wife and I reside. One presentation was at an event that was specifically organized for my presentation, and another as the Sunday sermon and closing message for a denominational mission conference. My presentation's title was The Cost of Evangelism: Its time to leave our comfort zones. (If the Lord so leads, I would be greatly blessed in assisting you in evangelism training for your church, if only to address your congregation via my presentation and sharing my evangelism experiences to get the 'ball rolling.' Feel free to contact me at: 4Lane.davis@gmail.com)
In my presentation, I used the definition of evangelism offered by Norman and David Geisler in their excellent book, Conversational Evangelism-how to listen and speak so you can be heard. Their definition of evangelism is:
"Evangelism is every day, and in every way, helping your nonbelieving friends to take one step closer to Jesus Christ."

They follow their definition with the following emphasis:
"This means in practice that every day we need to ask ourselves, "What do I need to do today to help my nonbelieving friends take one step closer to Jesus?"

Building on the Geislers' definition of evangelism, I presented the scriptural position that evangelism is a lifestyle, not just a one time experience, or something that we as Christians engage in on special occasions. Throughout my presentation I interjected my personal witnessing experiences in a variety of settings (at my job/workplace, when sitting at a coffee shop, when conversing with my neighbors, etc.) in order to illustrate how 'sharing the Gospel' opportunities are there "every day" if the follower of Christ is intentional, equipped and looking for such opportunities. My emphasis was that evangelism isn't just one part of our calling, it is central to our calling. Jesus' last words should be our first priority, (Acts 1:8), as should His first words in Matthew's Gospel when calling His disciples, "Follow me and I will make you become fishers of men." (Matt. 4:19)
In regard to our Christian calling, Os Guinness states,
Calling is the truth that God calls us to himself so decisively that everything we are, everything we do, and everything we have is invested with a special devotion, dynamism, and direction lived out as a response to his summons and service…Calling reminds Christians ceaselessly that, far from having arrived, a Christian is someone who in this life is always on the road as "a follower of Christ" and a follower of "the Way…Calling is not only a matter of being and doing what we are but also of becoming what we are not yet but are called by God to be…nothing short of God's call can ground and fulfill the truest human desire for purpose. (1)

I shared with the audience that God uses not so much gifts for evangelism (though there is a biblical gift of evangelism) but the faithfulness of thousands and millions of Christians who would never consider evangelism  their gift. That you and I may conclude that we are not gifted for the task of evangelism, but that does not absolve us of the responsibility to obey. It is still our duty. God may unusually anoint a Peter and a Paul, a Dwight L Moody, a Spurgeon, a Billy Graham, but He calls each of us to share the good news.