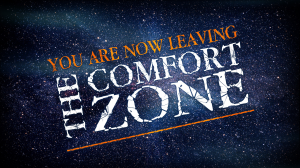 We all have a 'comfort zone,' one that is defined by the people, places, things, routines and habits that are familiar to us. Most of us become UN-comfortable when someone, or a set of circumstances moves us out of our comfort zone and into new territory, a territory that we sense will bring with it new challenges and changes in our lifestyle. As a Christian, it is often about moving from passivity to action, that of embracing an active, engaged and evangelistic Christian lifestyle. Moving from passivity to activity and engagement is where the uncomfortableness will manifest itself and one will experience strong resistance in stepping outside that which threatens to disrupt their comfort zone. Being active and engaging is what I call the "salt and light lifestyle," two familiar metaphors that Jesus used to illustrate the influence that he expected of his followers to have in the world. (Matt. 5:13-16) Embracing the "salt and light lifestyle," that of taking the points of our Christian worldview and articulating them to those whose lives we touch, is what I call, "where the rubber meets the road Christianity." Jesus taught a "verbalized Gospel," not just a "we will show them we are Christians by our love," Gospel. Yes, Jesus did say, "By this all people will know that you are my disciples, if you have love for one another" (John 13:34-35), but this spiritual dynamic is only applicable when non-believers are observing a meeting or gathering of two or more believers. In order to make our witness a comprehensive one, we must do the one, but not leave the other undone, that of "loving our neighbor as ourselves," one of the two Great Commandments. (Matt. 22:36-40)
Now, let's pause and 'flip the coin,' asking ourselves, "what would I want this person (a colleague at work, a fellow student, my neighbor, etc.) to do for me if our roles were reversed?" The answer is obvious—"I would want them to love me as they love themselves and obey the Great Commission that Christ gave them to bring me the Gospel. I would want them to set aside their pride, their fear of rejection and embarrassment, to move outside of their comfort zone so as to present me with the saving knowledge of the Lord and Savior, Jesus Christ." On this score, Jesus didn't leave any wiggle room for his followers: "And he said to ALL, "If anyone would come after me, let him deny himself and take up his cross daily and follow me. For whoever would save his life will lose it, but whoever loses his life for my sake will save it. For what does it profit a man if he gains the whole world and loses or forfeits himself? For whoever is ashamed of me and of my words, of him will the Son of Man be ashamed when he comes in his glory and the glory of the Father and of the holy angels. (Luke 9:23-26) These are some of the most uncomfortable words that Jesus spoke. Jesus was constantly moving people out of their comfort zones and down uncomfortable paths, not the least of which was the call to the occupation of fishing—"Follow me and I will make you fishers of men." (Matt. 4:19) What I find to be a vital point in this discourse is that it was addressed to ALL which leaves no wiggle room for excusing away the instruction that follows, after all, a disciple is one who is a follower of the teaching. Jesus' words are a call to forsake the first impediment to evangelism, which is pride and/or a lack of humility, through "denying oneself and taking up their cross daily," and having done so, to then follow him in "bringing forth fruit that remains." (John 15:16)
Renowned evangelist, John Stott, offers the following analysis and responsibility of a Christian to break out of one's comfort zone and embrace the "salt and light lifestyle."
"Like salt in putrefying meat, Christians are to hinder social decay. Like light in the prevailing darkness, Christians are to illumine society and show it a better way. It's very important to grasp these two stages in the teaching of Jesus. Most Christians accept that there is a distinction between the Christian and the non-Christian, between the church and the world. God's new society, the church, is as different from the old society as salt from rotting meat and as light from darkness. But there are too many people who stop there; too many people whose whole preoccupation is with survival—that is, maintaining the distinction. The salt must retain its saltiness, they say. It must not become contaminated. The light must retain its brightness. It must not be smothered by the darkness. That is true. But that is merely survival. Salt and light are not just a bit different from their environment. They are to have a powerful influence on their environment. The salt is to be rubbed into the meat in order to stop the rot. The light is to shine into the darkness. It is to be set upon a lamp stand, and it is to give light to the environment. That is an influence on the environment quite different from mere survival." [1]
In his article, Listening to Young Atheists: Lessons for a Stronger Christianity, Larry Taunton shares the following illumining testimony of what unbelievers expect of a Christian–"Following our 2010 debate in Billings, Montana, I asked Christopher Hitchens why he didn't try to savage me on stage the way he had so many others. His reply was immediate and emphatic: "Because you believe it." Without fail, our former church-attending students expressed similar feelings for those Christians who unashamedly embraced biblical teaching. Michael, a political science major at Dartmouth, told us that he is drawn to Christians like that, adding: "I really can't consider a Christian a good, moral person if he isn't trying to convert me." As surprising as it may seem, this sentiment is not as unusual as you might think. It finds resonance in the well-publicized comments of Penn Jillette, the atheist illusionist and comedian: "I don't respect people who don't proselytize. I don't respect that at all. If you believe that there's a heaven and hell and people could be going to hell or not getting eternal life or whatever, and you think that it's not really worth telling them this because it would make it socially awkward…. How much do you have to hate somebody to believe that everlasting life is possible and not tell them that?" Comments like these should cause every Christian to examine his conscience to see if he truly believes that Jesus is, as he claimed, "the way, the truth, and the life." [2]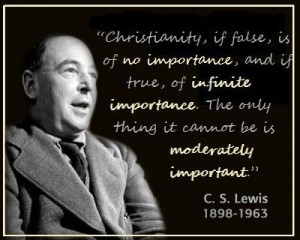 A Christian does not have to be a learned theologian, an articulate evangelist, or an outstanding apologist to step outside their comfort zone and embrace an engaging, evangelistic lifestyle. If you feel inadequate, then for God's sake, and the sake of the lost, DO something about it! Move outside your comfort zone and begin setting aside the time to "do your best to present yourself to God as one approved, a worker who has no need to be ashamed, rightly handling the word of truth. (2 Timothy 2:15) Charlie Campbell gets to the core of the issue, that of "denying oneself and taking up their cross," through preparative study, the study that will enable the Christian to speak the Word of God boldly—"Can you imagine being an ambassador for your country and neglecting to prepare yourself for the common questions that people ask about your homeland? That would be irresponsible. You'd be without a job very quickly. God tells us that we are His ambassadors (2 Cor. 5:20). Seeing that that is the case, I think it is important that every Christian consider the following question: Am I ready to answer the common questions people ask about God? Am I ready to explain to someone why I believe the Bible is trustworthy? 1 Peter 3:15 says that we are to be ready to give a defense of our faith. Are you ready? Sadly, many Christians watch more TV in a week than they'll spend in a year preparing themselves to answer questions about God and the Bible. Don't leave defending the faith to your pastor. The church needs an army of saints who are able to articulate the truth persuasively and graciously. We are all called to "contend earnestly for the faith" (Jude 3)." (See the home page of this site for apologetic site resources, as well as here for more resources.)

Quaker divine, Rufus M. Jones, put it beautifully when he said, "What he needs is better organs to reveal himself through, richer, truer, holier lives to show his love through, more finely organized personalities for his grace to break through into the world. He cannot do his work without us. He cannot preach without our lips, comfort without our help, heal without our hands, carry the truth without our feet, remove the shadow without our faith and effort. The invisible works through the visible, the unseen and eternal operates through little instruments like us!" [3]
If you don't know where to start in your study program, I highly recommend the following resources:
On Guard—William Lane Craig–order here
Tactics—A Game Plan for Discussing Your Christian Convictions—Gregory Koukl–order here
Conversational Evangelism—How to listen and speak so you can be heard, Norman Geisler–order here
Cold-case Christianity, J. Warner Wallace–order here
Also, see two other articles on this site, The Intellectual Ostrich, Pt. 1 and Pt. 2, for more on living the "salt and light" lifestyle.
[1] John Stott, Four Ways Christians Can Influence the World—How we can be salt and light, Christianity Today, October, 20, 2011, article here
[2] Larry Taunton, Listening to Young Atheists: Lessons for a Stronger Christianity, complete article here.
[3] Rufus M. Jones, The World Within, The MacMillan Company, 1918, pg.12
You can also contact the author at: 4Lane.davis@gmail.com