I am working my way through David Berlinski's, The Devils' Delusion—Atheism and It's Scientific Pretensions, which is a refutation to Richard Dawkins' book, The God Delusion. This is a brilliant, incisive, and funny book which explores the limits of science and the pretensions of those who insist it can be—indeed must be—the ultimate touchstone for understanding our world and ourselves. Although Dr. Berlinski refers to himself as a "secular Jew," he offers a biting defense of religious thought within the pages of The Devil's Delusion.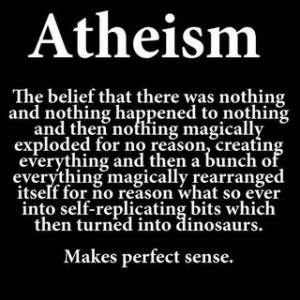 Berlinski takes point blank aim at Dawkins and his atheist worldview, and gives them both a well-deserved shot:
"Atheism is the schwerpunkt, as German military theorist used to say with satisfaction, the place where force is concentrated and applied; and what lies behind is a doctrinal system, a way of looking at the world, and so an ideology. It is an ideology with no truly distinct center and the fuzziest of boundaries. For purposes of propaganda it hardly matters. Science as an institution is unified by the lowest common denominator of belief, and that is the conviction that science is a very good thing." (pg. 6)

Berlinski does not shy away from calling out some of the leading scientists of our day as to the incoherent ideology of atheism and Darwinian evolution that they espouse. In reference to Richard Dawkins, Berlinski states:
"He is as responsive to criticism as a black hole in space. "It is absolutely safe to say," Dawkins remarked, "that if you meet somebody who claims not to believe in evolution that person is ignorant, stupid or insane." (pg. 7)

This is confirmed in Dawkins book, River Out of Eden, where he reaffirms his position:
'The universe we observe has … no design, no purpose, no evil and no good, nothing but blind, pitiless indifference. … DNA neither knows nor cares. DNA just is. And we dance to its music.' (pg. 133)

When I first read the above quotes by Dawkins, my first thought was, "how original." (Sarcasm intended.) We need not look to far back to find the same ideology being espoused (almost verbatim) by none other than Bertrand Russell in his essay, "A Free Man's Worship" (1903):
That Man is the product of causes that had no prevision of the end they were achieving; that his origin, his growth, his hopes and fears, his loves and his beliefs, are but the outcome of accidental collocations of atoms; that no fire, no heroism, no intensity of thought and feeling, can preserve individual life beyond the grave; that all the labors of the ages, all the devotion, all the inspiration, all the noonday brightness of human genius, are destined to extinction in the vast death of the solar system, and that the whole temple of Man's achievement must inevitably be buried beneath the debris of a universe in ruins – all these things, if not quite beyond dispute, are yet so nearly certain that no philosophy which rejects them can hope to stand. Only within the scaffolding of these truths, only on the firm foundation of unyielding despair, can the soul's habitation henceforth be safely built.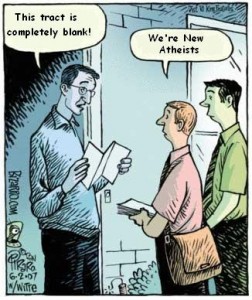 In a March, 2006 interview, Berlinski compares Dawkins brand of atheism with that of Bertrand Russell:
Jonathan Witt:…You do not, I gather, think much of the kind of atheism Dawkins is concerned to promote…

David Berlinski: It's pretty much the sort of stuff Bertrand Russell used to put out when he needed to knock-off a popular best-seller or dazzle one of his mistresses. "You see, my dear, belief in god is no better than belief in a teacup orbiting Mars, whereupon my dear would generally begin loosening her undergarments." The fact is that these kinds of arguments have been known to embarrass a wart hog.
Then Berlinski moves on to Peter Atkins, professor of physical chemistry at Oxford University:
"Peter Atkins…is ardent in his atheism. In the course of denouncing not only theology but poetry and philosophy as well, he observes favorably of himself that scientists "are at the summit of knowledge, beacons of rationality, and intellectually honest." It goes without saying, Atkins adds, that "there is no reason for suppose that science cannot deal with every aspect of existence." Science is, after all, "the apotheosis of the intellect and the consummation of the Renaissance." These comical declarations may be abbreviated by observing that Atkins is persuaded that not only is science a very good thing, but no other thing is good at all." (pg. 7)

As an example of the "comical declarations" highlighted by Berlinski, I've included the following clip from the debate between William Lane Craig and Peter Atkins:
The Devil's Delusion is a tour de force by Berlinski, in which he turns the scientific community's cherished skepticism back on itself, daring to ask and answer some rather embarrassing questions:
Has anyone provided a proof of God's inexistence? Not even close.
Has quantum cosmology explained the emergence of the universe or why it is here? Not even close.
Have the sciences explained why our universe seems to be fine-tuned to allow for the existence of life? Not even close.
Are physicists and biologists willing to believe in anything so long as it is not religious thought? Close enough.
Has rationalism in moral thought provided us with an understanding of what is good, what is right, and what is moral? Not close enough.
Has secularism in the terrible twentieth century been a force for good? Not even close to being close.
Is there a narrow and oppressive orthodoxy of thought and opinion within the sciences? Close enough.
Does anything in the sciences or in their philosophy justify the claim that religious belief is irrational? Not even ballpark.
Is scientific atheism a frivolous exercise in intellectual contempt? Dead on.
Berlinski does not dismiss the achievements of western science. The great physical theories, he observes, are among the treasures of the human race. But they do nothing to answer the questions that religion asks, and they fail to offer a coherent description of the cosmos or the methods by which it might be investigated.
This book may not bring someone to belief in Christ and cause them to embrace the Christian worldview, but it will cause the unbeliever, whether atheist, sceptic or agnostic, to pause and think critically about their worldview, which hopefully will bring them to consider a careful and critical examination of the evidence for the Christian worldview–an examination that will hopefully lead them to a saving knowledge of the eternal Word of God—Jesus Christ.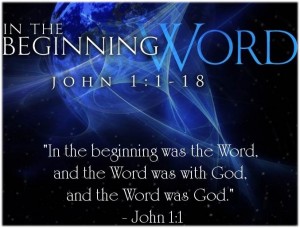 In the beginning, God created the heavens and the earth…In the beginning was the Word, and the Word was with God, and the Word was God. He was in the beginning with God. All things were made through him, and without him was not any thing made that was made. (John 1:1-3 ESV)