Both the New Testament (NT) and the Quran's account of Jesus' crucifixion, agree on one thing: there was a crucifixion and Jesus, or Isa al-Masih as he is referred too in the Quran, was at the center of the event. (For more on this topic see, The Historicity of the Crucifixion & the Law of Non-contradiction, here) However, one point in which the NT and Quran's accounts differ is that of addressing the question, "What was the reason and/or origin of the crucifixion event?" After all, a Roman crucifixion didn't happen in a vacuum, there were reasons as to why someone was condemned and executed in this most barbarous way. According to Cicero, the Roman statesman who died about 40 years before Jesus was born, crucifixion was not to be spoken or even thought of by Roman citizens. He states, "Far be the very name of a cross, not only from the body, but even from the thought, the eyes, the ears of Roman citizens." Thus, a Roman cross, now cherished by millions, was, at one time, not a subject fit for polite Roman conversation. Jewish historian, Josephus, a witness to many a crucifixion, called it "the most wretched of deaths." [1] So again we ask, why was Jesus condemned to death by crucifixion?
The Quran offers little, if any historical information, as to why Jesus was condemned to die by means of crucifixion. What the Quran does offer, is the denial of two historically verifiable facts: (1) Jesus' crucifixion and (2) His claim(s) to deity. Regarding Jesus claim to deity, which is the focus of this article, Muslim apologists, such as Ahmad Deedat, often state that Jesus is never reported to have said, "I am God," or "Worship me." It is therefore presumed that, since Christ never stated this, Christians are wrong in worshiping Jesus as God. However, this claim from Islamic apologists breaks down quickly when we once again ask the question, what was the reason and/or origin of the crucifixion event?
One needs to search no further than the records of the trials of Jesus to answer this question.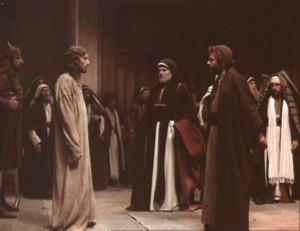 In Mark 14, Caiaphas, the high priest at the time, asked Jesus, "Are you the Christ, the Son of the Blessed?," Jesus' reply was, "I am. And you will see the Son of Man sitting at the right hand of the Power, and coming with the clouds of heaven." And the high priest tore his garments and said, "What further witnesses do we need? You have heard his blasphemy. What is your decision?" And they all condemned him as deserving death. (Mark 14:61-64) Muslim apologists, such as Shabir Ally, will often claim that Jesus' claim to divinity/deity cannot be found in the gospel of Mark and that it was therefore advanced over time by the gospels according to Matthew, Luke and finally John, and later by the early Church fathers. One need only read the narratives of the three Gospel writers to see that this is patently false. As an example, compare Matthew's account with that of Mark's above—"And the high priest said to him, "I adjure you by the living God, tell us if you are the Christ, the Son of God." Jesus said to him, "You have said so. But I tell you, from now on you will see the Son of Man seated at the right hand of Power and coming on the clouds of heaven." Then the high priest tore his robes and said, "He has uttered blasphemy. What further witnesses do we need? You have now heard his blasphemy. What is your judgment?" They answered, "He deserves death." (Matthew 26:63-66)
Here, in the NT Gospel narratives, we find the answer to our question—What was the reason and origin of the crucifixion event?—it was Jesus Christ's claim to deity. There would have been no other reason for Caiaphas to have rent his robe and for the leaders of the Sanhedrin to condemn Jesus to death. They didn't care if Jesus 'stirred up the people,' or if he 'forbade people to pay tribute/taxes to Caesar,' but his claim to deity as the "Christ, the Son of God," was an entirely different matter, and it was because of Christ's claim to deity that he was condemned and charged with blasphemy, a charge worthy of death under Jewish law. The rending of the high priest's robe is yet another confirmation of Christ's claim to deity which was clearly understood by the High Priest. H. B. Swete explains the significance of this response, "The law forbade the High Priest to rend his garment in private troubles (Lev.10:6; 21:10), but when acting as a judge, he was required by custom to express in this way his horror of any blasphemy uttered in his presence…If trustworthy evidence was not forthcoming, the necessity for it had now been superseded; the Prisoner had incriminated Himself." [2] Frank Morrison concurs, "But we have still to consider the other outstanding feature of this remarkable trial. Jesus of Nazareth was condemned to death, not on the statements of His accusers, but on an admission extorted from Him under oath." (Frank Morrison, Who Moved the Stone?, Zondervan, 1987)
Judge Gaynor, the accomplished jurist of the New York bench, in his address upon the trial of Jesus, maintains that blasphemy was the one charge made against Jesus before the Sanhedrin: "It is plain from each of the gospel narratives, that the alleged crime for which Jesus was tried and convicted was blasphemy…Jesus had been claiming supernatural power, which in a human being was blasphemy…" (citing John 10:33). [3] Concerning the question of the Pharisees, A. T. Robertson says, "Jesus accepts the challenge and admits that He claims to be all three (the Messiah, the Son of Man, the Son of God). Ye say (Humeislegete), is just a Greek idiom for 'Yes' (compare 'I AM' in Mark 14:62 with 'Thou hast said' in Matthew 26:64. [4] Hilarin Felder adds, "This inspection of the trial of Jesus should be sufficient to give us the invincible conviction that the Savior confessed His true divinity before His judges. [5]
Even though Jesus' answers to His judges take a different form in each of the Synoptics, we see, as Morison tells us, that they all are equal in meaning: "These answers are really identical. The formulae 'Thou has said' or 'Ye say that I am,' which to modern ears sound evasive, had no such connotation to the contemporary Jewish mind. 'Thou sayst' was the traditional form in which a cultivated Jew replied to a question of grave or sad import. Courtesy forbade a direct 'yes' or 'no.'" [6]
In Mark 14:61-64, Jesus puts two Messianic prophecies together in one sentence—Daniel 7:13-14 and Psalm 110:1—which could not be misunderstood or misinterpreted. These prophecies did not simply predict the coming of an earthly Messiah who would restore Israel to its former and eternal glory, but they were explicit in establishing the Messiah as equal to God (Ancient of Days), the Son of God (son of man) as Daniel clearly states, "I saw in the night visions, and behold, with the clouds of heaven there came one like a son of man, and he came to the Ancient of Days and was presented before him. And to him was given dominion and glory and a kingdom, that all peoples, nations, and languages should serve him; his dominion is an everlasting dominion, which shall not pass away, and his kingdom one that shall not be destroyed. (Daniel 7:13-14 ESV) When the Son of Man receives worship or service the word in the original Aramaic (the language that Daniel 7 was written in) is pelach. The evidence affirming that according to Daniel and the Old Testament this refers to unique divine service or worship which is due to God alone is strong. The Brown-Driver-Briggs Hebrew and English Lexicon assigns to pelach the following meaning: "pay reverence to, serve (deity)" [7], and it attaches the latter meaning to Daniel 7:14's use of the word as well. Stephan R. Miller is in agreement, and in his commentary on Daniel notes that "… in every other instance where the verb פְּלַח ('worship'; 'serve,' NRSV) occurs in biblical Aramaic (nine times), it has reference to service (worship) rendered a deity (Dan 3:12, 12, 17-18, 28; 6:16[17], 20[21]; 7:14; Ezra 7:24)." [8]
Regarding the Pharisees reaction to Jesus appropriating these Messianic prophecies to himself, it is clear that they were familiar with these prophecies and the implications of a person claiming them for themselves, and that they understood exactly what Jesus was claiming—deity, which in their eyes was blasphemy. Later, in reply to Pilate asking, "Why, what has he done?", they confirmed the reason for their condemnation of Jesus when they stated, "We have a law, and according to that law he ought to die because he has made himself the Son of God." (Mark 15:14)
F. F. Bruce, writes, "It is implied, if not expressly stated, that in Daniel's vision this being was enthroned…[Jesus] linked these two scriptures when the high priest of Israel challenged him to declare his identity." [9] William Childs Robinson concludes that "each of these [three] affirmations is distinctly Messianic. Their cumulative Messianic effect is 'stunningly significant." [10]
German theologian Horst Georg Pohlmann, offers the following regarding Jesus enunciating an implicit Christology, putting himself in God's place:
This unheard of claim to authority, as it comes to expression in the antitheses of the Sermon on the Mount, for example, is implicit Christology, since it presupposes a unity of Jesus with God that is deeper than that of all men, namely a unity of essence. This…claim to authority is explicable only from the side of his deity. This authority only God himself can claim. With regoard to Jesus there are only two possible modes of behavior; either to believe that in him God encounters us or to nail him to the cross as a blasphemer. Tertium non datur.[11]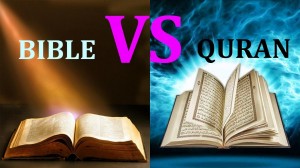 There is only one reason, and one reason only for the crucifixion event of Jesus, Isa al-Masih, to have taken place, and that is Jesus' claim to deity. Again, the missing piece of the puzzle in the Quran's crucifixion account is the exact reason for the event to have taken place at all. The Muslim world has tried to explain the particulars of the event, such as Jesus was about to be arrested and crucified, someone else was suddenly made to look exactly like him and was crucified in his place. A potential list of persons range from Judas Iscariot, to Simon of Cyrene, or one of his disciples to one of the Roman soldiers (all these have been suggested in different Muslim writings as possible victims of the transformation). However, there is simply NO historical evidence to sustain hypothesis' of this kind, a 'minor detail' that is overlooked by the Muslim community. However, even if one is to believe such unsubstantiated claims, as most of the Muslim community does, that would not answer the question: "What was the reason for, and/or origin, of the crucifixion event?"
There is only one answer to the question—the claims to deity of Jesus Christ Himself.
And when Jesus saw their faith, he said to the paralytic, "Son, your sins are forgiven." Now some of the scribes were sitting there, questioning in their hearts, "Why does this man speak like that? He is blaspheming! Who can forgive sins but God alone?" And immediately Jesus, perceiving in his spirit that they thus questioned within themselves, said to them…, "But that you may know that the Son of Man has authority on earth to forgive sins"—he said to the paralytic—"I say to you, rise, pick up your bed, and go home." And he rose and immediately picked up his bed and went out before them all, so that they were all amazed and glorified God, saying, "We never saw anything like this!" (Mark 2:5-12 ESV)
I and My Father are one.—John 10:25
My Father…and I have been working.—John 5:17
Jesus said to them, "Most assuredly, I say to you, before Abraham was, I AM."—John 8:58
The disciples "worshipped him, saying: 'of a truth thou art the Son of God."—Matthew 14:33
Thomas answered him, "My Lord and my God!"—John 20:28
(See videos below for further discussion on the topic)
References:
[1] Weylan Deaver, Crucifixion, http://www.shermandrive.org/article_archives/041512-crucifixion-weylandeaver.pdf
[2] H. B. Swete, The Gospel according to St. Mark, London: Macmillan, 1898, pg. 339
[3] Charles E. Deland, The Mis-Trials of Jesus, Boston: Gadger, 1914, pg. 118-19
[4] A. T. Robinson, Word Pictures in the New Testament, Nashville: Broadman, 1930, pg. 277
[5] Hilarin Felder, Christ and the Critics, Trans. John L Stoddard, London: Burns, Oates, & Washburn, 1924, pg. 299-300
[6] Frank Morrison, Who Moved the Stone?, London: Faber & Faber, 1967, pg. 26
[7] Francis Brown, S. R. Driver, Charles A. Briggs, The Enhanced Brown-Driver-Briggs Hebrew and English Lexicon, [Clarendon Press: Oxford, 1906], p. 2718
[8] Stephen R. Miller, Daniel, New American Commentary, [B&H Publishing Group, 1994], p. 217
[9] F. F. Bruce, The Real Jesus: Who Is He? In The Jesus Library. Ed. Michael Green. London: Hodder & Stroughton, 1985, pg. 64-65
[10] William C. Robinson, ed. Who Say Ye That I Am?, Grand Rapids, MI: Eerdmans, 1949, pg. 65
[11] Horst Georg Pohlmann, Abriss der Dogmatik, 3d rev. ed. (Gutersloh, Germany: Gerd Mohn, 1980), pg. 230
Special thanks to Josh McDowell—his book, Evidence for Christianity—Historical Evidences for the Christian Faith, Thomas Nelson, 2006, was a valuable resource. I recommend this book to all.
Summary of the Deity of Christ in the Gospel of Mark-James R. White


Jesus Trial before the Sanhedrin-reenactment of the trial from the movie, Jesus of Nazareth
You can also contact the author of this article at: 4Lane.davis@gmail.com
(There are a number of contradictions in the Quran, as well as the Hadith, regarding Jesus' life and death which can be further researched at: http://www.answering-islam.org/Responses/Meherally/mehB7_0.htm)