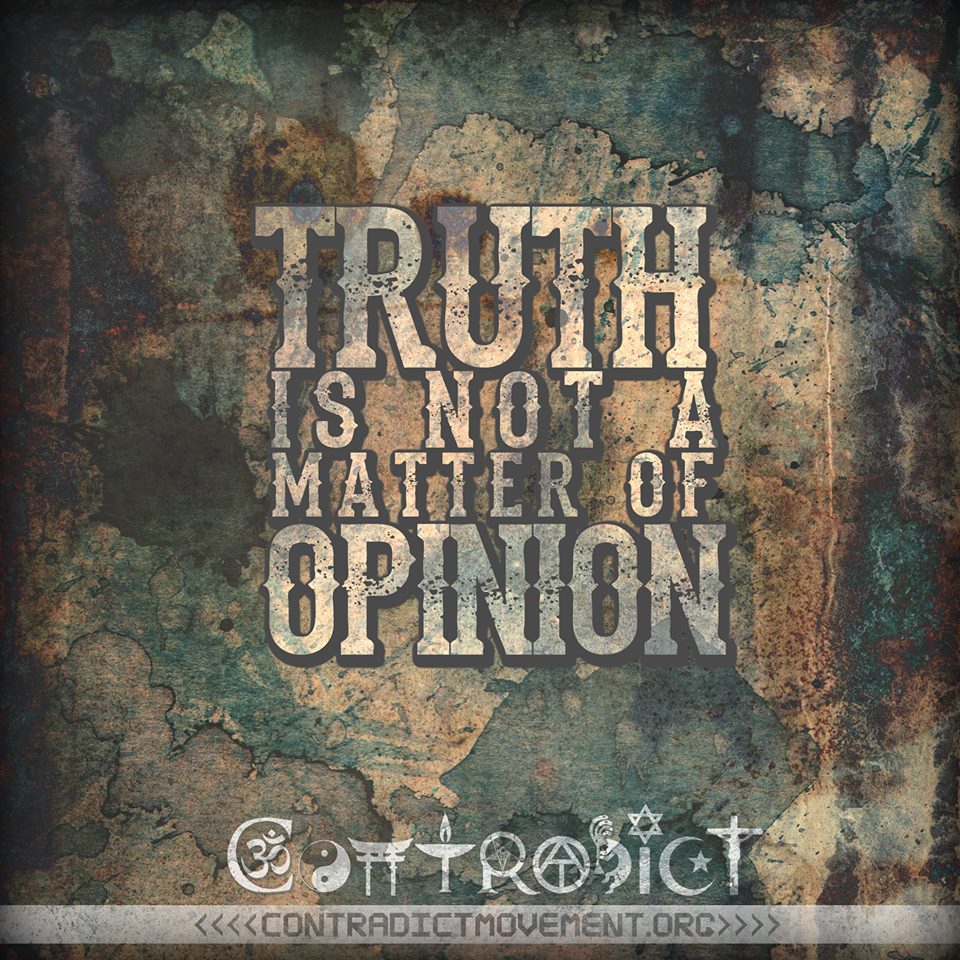 There are a number of pop culture sound bites being ideologically bantered around today which you may have heard from time to time. They go something like this—"that may be true for you, but not for me"…"all roads lead to God…"…"that's just your reality…"…"so many people disagree, relativism must be true…"…"you can choose whichever religion you want, they're all the same…" Sound familiar? You may have even made such statements yourself. But as you read back over these statements, do you really believe they are true? And even if you or others believe that they are true, does that make them true? Let's do a bit of investigative work and see how such statements correspond with reality and our life experience. As we do, keep in mind that truth is discovered, not invented by feeling, opinion or by pop culture sound bites.
At the core of each of the above statements is the relativistic worldview, which simply put, is that "a belief can be true for one person but not for another." In the pluralistic, multicultural, multi-opinionated world of today, it is easy to be swept along by such a worldview, one that has permeated all levels of society, from the university to the media, the workplace to religious institutions. But is the relativistic worldview really true? The truth is—NO it isn't. How do I know? Let's unpack it and see what we find.
In a nutshell, relativism is the philosophical position that all points of view are equally valid, and that all truth is relative to the individual. Author and speaker, Dr. Frank Turek, puts relativism in context via the following illustration: "True for you but not for me is a self-defeating and therefore false statement. You can prove this one conclusively to yourself today—just drive 90 in a 55 lane and when the cop stops you for speeding, just say, "that's true for you but not for me," and speed off. Since it's not true for you he can't give you a ticket, right?" Or let's take our experience of taking exams in school—if relativism is true, then the teacher would have to give every student an A because all the answers would have been true to the student, even if they were false/wrong. The hip hop band Lecrae, addressed the fallacy of relativism by stating, "If what's true for you is true for you, and what's true for me is true for me, what if my truth says yours is a lie? Is it still true?" As you can see from these statements/illustrations, relativism is self-refuting, and as such, cannot be true.
Now you may be thinking, "I'm still not convinced that relativism is self-refuting. "Well, if all truth is relative, then the statement "All truth is relative" would be absolutely true.  If it is absolutely true, then not all things are relative and the statement that "all truth is relative" is false. Let's look at the statement, "there are no absolute truths." The statement "there are no absolute truths" is an absolute statement which is supposed to be true.  Therefore, it is an absolute truth and "there are no absolute truths" is false. If there are no absolute truths, then you cannot believe anything absolutely at all, including that there are no absolute truths.  Therefore, nothing could be really true for you – including relativism.[1]
In her recent book Total Truth, Nancy Pearcey explains that the very concept of truth is divided in our culture today. According to Pearcey, our culture has drawn a division between the secular and the sacred, ascribing religion, morality, and the like to a private, subjective realm — whereas the secular realm, dominated by science and other public knowledge, is the objective realm. She explains, "In short, the private sphere is awash in moral relativism…. Religion is not considered an objective truth to which we submit, but only a matter of personal taste which we choose…" In other words, religious and moral claims are matters of personal preference rather than knowledge claims about the real world.[2]
I have often heard people say, "God is true for you, and that's great, but something else is true for me," as if the truth about God is just personal opinion. However, the Christian faith is not a 'personal opinion' or someone's 'personal belief system' or preference. Christianity has a tremendous foundation of scientific and historical support that no other religious belief can claim, with both the scientific and historical support being found both within the Bible, as well as sources outside the Bible—that's right, sources outside the Bible! These include a number of Roman historians, a Jewish historian, Josephus, and others. (For further information on these extra-biblical sources, contact me at the address below).
Believe it or not, Christianity is based on an objective fact in history — the resurrection of Jesus Christ. Now you may reject the claim that the resurrection of Jesus is an historical fact—if so, you may want to consider the following—there are four facts agreed upon by the majority of scholars of history: 1) Jesus' burial, 2) the discovery of his empty tomb, 3) his post-mortem appearances, and 4) the origin of the disciples' belief in his resurrection. I am not referring to only conservative, evangelical scholars, but scholars of all positions—liberal, skeptic, etc. James D. G. Dunn asserts that "alternative interpretations [explanations] of the data [evidence] fail to provide a more satisfactory explanation than the New Testament message that God raised Jesus from the dead." This is not the type of claim that can be "true for me, but not true for you." Jesus' tomb was either empty on the third day, or it was occupied, either he appeared to over 500 people after his resurrection[3], or he didn't, either this is the reason for the origin of the disciples' belief or it isn't— there is no middle ground. The evidence is so powerful that one of the world's leading Jewish theologians, the late Pinchas Lapide, who taught at Hebrew University in Israel, declared himself convinced on the basis of the evidence that the God of Israel raised Jesus of Nazareth from the dead![4] Oxford professor, Thomas Arnold stated, "I have been used for many years to study the histories of other times and to examine and weigh the evidence of those who have written about them, and I know of no one fact in the history of mankind which is proved by better and fuller evidence of every sort, to the understanding of a fair inquirer, than the great sign which God hath given us that Christ died and rose again from the dead."
Oxford scholar and author, C. S. Lewis, after his conversion from atheism to Christianity, said, "Christianity, if false, is of no importance, and if true, of infinite importance. The only thing it cannot be is moderately important." He was a man who, after thorough investigative research, was willing to follow the evidence where it led him and in the process, he arrived at the conclusion that Christianity was true.  Jesus didn't enter into our space/time continuum to tell us about truth or to proclaim a truth—He came as THE Truth, the Way and the Life. To the people of his day he said, "If you hold to my teaching…you will know the truth, and the truth will set you free."[5] I leave you with the following invitation to open your heart and mind to The Truth of the universe, that of Jesus Christ himself, the Creator of the universe and all that is in it—which includes you and me.
"I come before you now, the personal God who created both the heavens and the earth, acknowledging my need for you, my Creator.  I acknowledge you, Jesus, as the Truth the Way and the Life, the one who came to this earth and paid the ransom for my sins through your death and resurrection. I turn to you now, Jesus, and ask for your forgiveness for my wrongdoing, and I invite you into my heart and life, that I may be transformed through your gift of eternal life that you have promised to all those who call upon and receive you. Illuminate my mind and open it to your truth so that I may understand and know you and the reason and purpose for my life. Thank you Jesus, for the gift of eternal life, and for revealing yourself to me."—to all who received him, to those who believed in his name, he gave the right to become children of God…I stand at the door andknock. If anyone hears my voice and opens the door, I will come in to them.—John 1:12; Rev. 3:20
"Truth is true— even if no one knows it. Truth is true—even if no one admits it. Truth is true— even if no one agrees what it is. Truth is true— even if no one follows it. Truth is true—even if no one but God grasps it fully."—Paul Copan[6]
"Truth is incontrovertible. Malice may attack it and ignorance may deride it, but, in the end, there it is."—Sir Winston Churchill
Footnotes:
[1] Matt Slick, Refuting Relativism, http://carm.org/refuting-relativism
[2] Sean McDowell, True for You, But Not for Me, http://www.christianity.com/11553860/
[3]  The Bible, 1 Corinthians 15:1-8
[4] Pinchas Lapide, The Resurrection of Jesus, trans. Wilhelm C. Linss (London: SPCK, 1983).
[5] The Bible, John 8:31, 32
[6] Paul Copan, Chair of Philosophy and Ethics at Palm Beach Atlantic University, author, True For You But Not For Me
Is Truth True For You But Not For Me?–Frank Turek–One Minute Apologist
True for You But Not for Me-Part 1-Brett Kunkle
The difference between subjective and objective truth is the difference between ice cream and insulin.
True for You But Not for Me-Part 2-Brett Kunkle
Test yourself and see if you can tell the difference between subjective and objective truth claims.