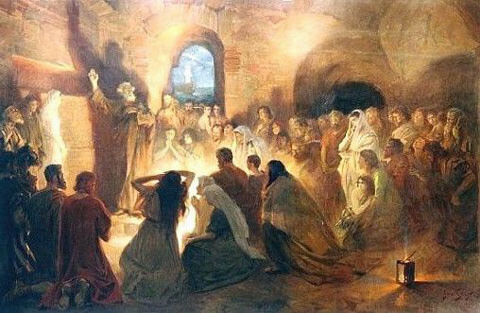 The credibility and veracity of the Gospel narratives has come under fire by opponents, critics and skeptics since the time that they were passed on via the oral tradition of the eyewitnesses, and later penned by these same eyewitnesses. As early as the second century, critics such as Celsus and Porphyry were putting pen to papyrus to discredit Christianity's foundation doctrines, that of the incarnation, the historicity of the resurrection, etc.
In this article I would like to cover the issue of honesty and transparency on the part of the Gospel writers, the eyewitnesses to Jesus life, death and resurrection, and put their character, the real 'them' under the ethical microscope to test their credibility and character, and as such, the veracity of their stories. After all, an historical biographical narrative, which is what the Gospels are , is only as accurate and true to life as the honesty and transparency of the person who writes it. But before I do that, I would like to pose the following reflective questions to ask ourselves:
If I were to write a biography of my life:
Would I include examples of my cowardice when bravery was called for?
Would I include the times I was disloyal, or betrayed the trust of my friends, and even loved ones?
Would I include rebukes, along with the commendations, that I received from my boss, friends or loved ones?
Would I include stupid things that I said at times, you know, those 'foot in mouth' moments?
If you answered yes to each of these questions, then your biographical narrative would be considered honest and transparent, and as such, trustworthy, fulfilling the historical criteria of embarrassment. Gary Habermas and Michael Licona state that "embarrassing admissions support historical claims." They define the criteria of embarrassment as: "An indicator that an event or saying is authentic occurs when the source would not be expected to create the story, because it embarrasses his cause and "weakens its position in arguments with opponents." Law professor Annette Gordon-Reed states, "Declarations against interest are regarded as having a high degree of credibility because of the presumption that people do not make up lies in order to hurt themselves; they lie to help themselves."
Here are a few examples taken from the Gospel narratives that answer each of the above questions:
Examples of cowardice when bravery was called for:
Mark 14:50 "Then everyone deserted him and fled."
Matt 26:56 "Then all the disciples deserted him and fled."
Matt. 26:69-75: "Peter was sitting outside in the courtyard. And a servant girl came up to him and said, "You also were with Jesus the Galilean." But he denied it before them all, saying, "I do not know what you mean." And when he went out to the entrance, another servant girl saw him, and she said to the bystanders, "This man was with Jesus of Nazareth." And again he denied it with an oath: "I do not know the man." After a little while the bystanders came up and said to Peter, "Certainly you too are one of them, for your accent betrays you." Then he began to invoke a curse on himself and to swear, "I do not know the man." And immediately the rooster crowed. And Peter remembered the saying of Jesus, "Before the rooster crows, you will deny me three times." And he went out and wept bitterly."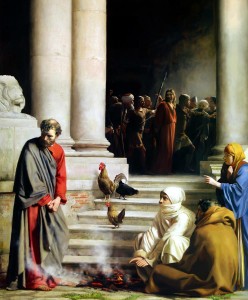 John 20:19 "On the evening of that first day of the week, when the disciples were together, with the doors locked for fear of the Jews…"
Examples of disloyalty, betrayal and trust of friends, and loved ones:
John 6:66—"After this many of his disciples turned back and no longer walked with him."
Mark 3:20-21—"Then he went home, and the crowd gathered again, so that they could not even eat. And when his family heard it, they went out to seize him, for they were saying, "He is out of his mind."
John 13:21-27—"After saying these things, Jesus was troubled in his spirit, and testified, "Truly, truly, I say to you, one of you will betray me." The disciples looked at one another, uncertain of whom he spoke. One of his disciples, whom Jesus loved, was reclining at table at Jesus' side, so Simon Peter motioned to him to ask Jesus of whom he was speaking. So that disciple, leaning back against Jesus, said to him, "Lord, who is it?" Jesus answered, "It is he to whom I will give this morsel of bread when I have dipped it." So when he had dipped the morsel, he gave it to Judas, the son of Simon Iscariot. Then after he had taken the morsel, Satan entered into him. Jesus said to him, "What you are going to do, do quickly."
Examples of rebukes, along with the commendations, that the disciples received from Jesus:
John 14:8-10—"Philip said to him, "Lord, show us the Father, and it is enough for us." Jesus said to him, "Have I been with you so long, and you still do not know me, Philip? Whoever has seen me has seen the Father. How can you say, 'Show us the Father'? Do you not believe that I am in the Father and the Father is in me? The words that I say to you I do not speak on my own authority, but the Father who dwells in me does his works."
Matt. 16:15-19—"He said to them, "But who do you say that I am?" Simon Peter replied, "You are the Christ, the Son of the living God." And Jesus answered him, "Blessed are you, Simon Bar-Jonah! For flesh and blood has not revealed this to you, but my Father who is in heaven. And I tell you, you are Peter, and on this rock I will build my church, and the gates of hell shall not prevail against it. I will give you the keys of the kingdom of heaven, and whatever you bind on earth shall be bound in heaven, and whatever you loose on earth shall be loosed in heaven."
Examples of stupid things that the disciples said at times, those 'foot in mouth' moments:
Matt.17:1-6—"And after six days Jesus took with him Peter and James, and John his brother, and led them up a high mountain by themselves. And he was transfigured before them, and his face shone like the sun, and his clothes became white as light. And behold, there appeared to them Moses and Elijah, talking with him. And Peter said to Jesus, "Lord, it is good that we are here. If you wish, I will make three tents here, one for you and one for Moses and one for Elijah." He was still speaking when, behold, a bright cloud overshadowed them, and a voice from the cloud said, "This is my beloved Son, with whom I am well pleased; listen to him." When the disciples heard this, they fell on their faces and were terrified."
Mark 8:31-33—"And he began to teach them that the Son of Man must suffer many things and be rejected by the elders and the chief priests and the scribes and be killed, and after three days rise again. And he said this plainly. And Peter took him aside and began to rebuke him. But turning and seeing his disciples, he rebuked Peter and said, "Get behind me, Satan! For you are not setting your mind on the things of God, but on the things of man."
It is worth noting that a number of the above examples have to do with Peter. Peter is considered to be the 'leader' of Jesus' disciples and therefore, a member of Jesus' inner circle of disciples, along with James and John. As such, he would certainly be portrayed in the best possible light if the Gospel writers were biased in their accounts. However, nothing could be further from what has been recorded in the Gospel accounts! It is as though the writers, the eyewitnesses, went to great lengths to be as embarrassingly honest and transparent as possible. This once again highlights one of the historical criteria used to evaluate the veracity of an historical claim, the criteria of embarrassment.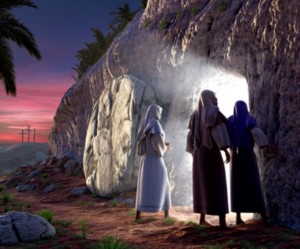 And we'll finish here with yet one other embarrassing account that we find in Luke 24, that of the women being the first ones on the scene of the empty tomb. New Testament scholar, Richard Baukman states, "in the Greco-Roman world, educated men regarded women as, "gullible in religious matters, and especially prone to superstitious fantasy and excessive in religious practices." Even though women had been excepted and prominent in Jesus' ministry, the cultural hangovers were obviously still present. "Now it was Mary Magdalene and Joanna and Mary the mother of James and the other women with them who told these things to the apostles, but these words seemed to them an idle tales, and they did not believe them." As to the authenticity of the Gospel accounts, it is unlikely that the Gospel writers would have made up a story of the men hiding in cowardice, while the women went boldly to the tomb. The early believers would have had no motive in humiliating its leaders by making them into cowards and the women into heroines."
So were the authors of the Gospels honest and transparent in their accounts? I'll let you be the judge. What we do know is that they passed the test of the criteria of embarrassment with flying colors worthy of an A+!
"There is no body of ancient literature in the world which enjoys such a wealth of good attestation as the New Testament."—F. F. Bruce
"The apostles were for many reasons pre-eminent in whatever community they found themselves. They spoke with the authority which one who has seen and heard and handled always possesses."—Rufus Jones
Sources:
Books:
Jesus and the Eyewitnesses–The Gospels as Eyewitness Testimony–Richard Bauckham–here
The Case for the Resurrection of Jesus–Gary Habermas & Michael Licona–here
New Testament–Too Embarrassing to Be False–Frank Turek